April 2021 – MMGY Travel Intelligence is the exclusive social listening provider for the U.S. Travel Association's Travel Recovery Insights Dashboard. Social listening is a vital tool in helping to inform recovery and tapping directly into how consumers are talking about travel across a range of areas. 
MMGY Global social teams are experts at identifying and understanding the social voice of the traveler landscape – and how to use it to inform the way forward for our travel and hospitality partners. Within this report are key recovery indicators identified through social listening for the month of April 2021.
5 POINTS TO KNOW ABOUT TRAVEL RECOVERY THIS MONTH
---
Holding Strong. After a sizable increase in social travel mentions driven by spring break last month, social travel mentions remained steady – only seeing a slight dip in mentions for April 2021.

Beach Is the Life. Those currently travel continue to focus on beach destinations – looking to relax and enjoy the sun and sand.

Road Trips vs. Air Travel. While road trip travel continues to be a constant for consumers,  we're continuing to see the return of air travel as consumers take to the skies to get away.

It's Your Birthday. Birthdays continued this month to be a key driver of travel across life moments.

Looking Forward to International. While social mentions have remained mostly flat monthly with consumers talking about the ability to travel internationally, people are excited about borders opening and the ability to travel abroad soon.
---
HOW ARE GENERAL TRAVEL CONVERSATIONS PACING?
All Travel Mentions – March 2021 (MoM Comparison)
Travel-related social mentions decreased slightly by 3% in April compared to March. This is to be expected as spring break travel mentions spiked in March.

April 2021 social mentions increased by 4% over April 2020 mentions. Mentions in 2020, of course, were tied to travel plans being canceled because of the pandemic.


Total engagements for April 2021 did drop by 31% after seeing a 94% lift in March 2021. There is still opportunity for improvement to return to April 2019 levels where saw 3 times the amount of engagements across traveler-shared social content.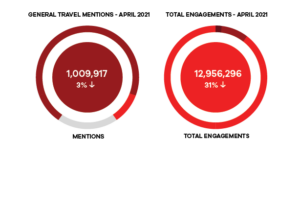 Travel Sentiment – 2019 vs. 2020 vs. 2021 
April net sentiment for 2021 registered at 70 points, which is just slightly less than the 71 points registered in March 2020.


Travel sentiment as a whole continues to be a strong indicator of recovery as consumers continue to have a positive outlook.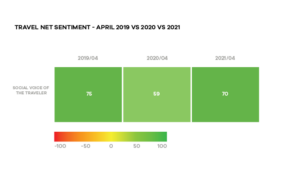 Sentiment Analysis by Month
Positive travel mentions for April 2021 continued to hold strong with a 22% increase over February 2021 levels and only a slight decrease compared to March 2021 of 6%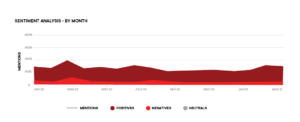 WHAT IS DRIVING TRAVEL CONVERSATIONS?
Top Terms and Sentiment Attributes
Travel conversations continue to focus on either being on vacation or actively booking a vacation.

Consumers continue to use the tears of joy emoji to express their emotion for being able to travel.


Beach-based destinations are a top mention across destination types.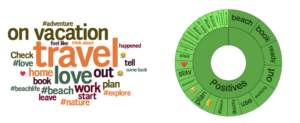 HOW IS TRAVEL PACING (INTENT/CONSIDERATION/BOOKING)?
Travel Booking Indicators – April (MoM Comparison)
Travel-related mentions tied to actively booking a vacation saw a 1% lift in April 2021 compared to March 2021.


Potential impressions associated with consumer-focused booking content did increase by 123% in April 2021 compared to March 2021. This is an indicator of those that either shared or engaged with traveler social content had a higher following MoM.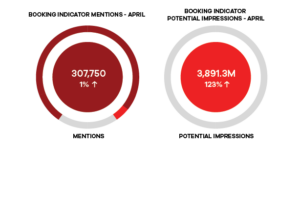 Travel Booking Indicators – By Month
Consumers actively talking about either booking or planning travel across social remained relatively flat from March 2021 to April 2021.

April 2021 did see a 29% increase compared to February 2021 as travel bookings continued to sharply increase through this spring.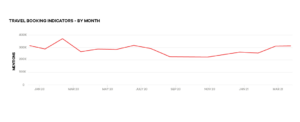 WHAT ARE SOME KEY AREAS OF INTEREST FOR TRAVEL?
Road Trips Mention Analysis
Travelers talking about road trips increased by 3% in April 2021 compared to March 2021.


Road trip mentions in April 2021 vs. April 2019 were only down by 12% – again indicating a return to pre-pandemic levels as consumers return to traveling.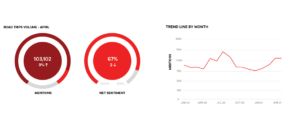 Air Travel Mention Analysis
Mentions around air travel across social increased by 6% in April 2021 over March 2021.


While air travel mentions have continued to increase, numbers are still down 35% from April 2021 compared to April 2019.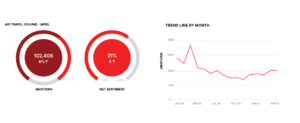 Train Travel Mention Analysis
People talking about train-specific travel in April 2021 increased by 10% MoM.


Sharing of news content related to the president's support of train travel contributed to the increase in volume this month.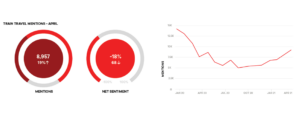 Accommodation Mentions (Hotels, Resorts, Airbnb, VRBO)
People talking about staying overnight at a property dipped slightly by 3% from March 2021 to April 2021.


This was the second highest month registered in the past year for accommodation social mentions – well above even summer 2020 levels.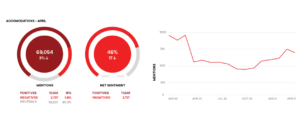 Cruise Ship Travel Mentions
Cruise ship social mentions dropped slightly during April 2021.


While recent updates on the return of cruising will likely see a sizable increase in May 2021, much of the content shared is from consumers looking back at their past positive cruise experiences wishing for a return trip.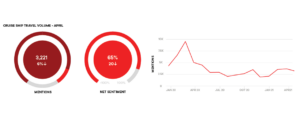 HOW DOES TRAVEL SEASONALITY AND LIFE MOMENTS IMPACT LISTENING?
Summer Travel
Social mentions tied to summer travel decreased slightly in April 2021as compared to March 2021 but still remained strong as travelers plan vacations this summer.


Overall, social net sentiment continued to increase as positive travel excitement builds for the busy summer months.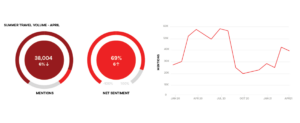 Life's Moments Travel – Anniversaries, Birthdays, Weddings
Consumers planning travel to celebrate birthdays continued to be the strongest performer across life's moments–related travel. Birthday travel remained flat from March 2021 to April 2021, following the largest increase in improvement of 51% from February 2021 to March 2021.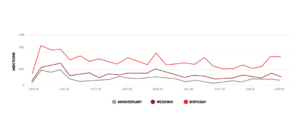 BONUS: A Look into the Return of International Travel
U.S. consumers talking about international travel increased by 11% from March 2021 to April 2021.


Mentions were focused on past travel adventures and the hope for a near-term return to international travel.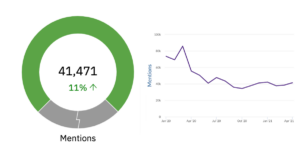 ---
About MMGY Travel Intelligence
MMGY Travel Intelligence is MMGY Global's industry research and insights brand, offering proprietary data and research designed to power travel industry decision-makers through consumer insights, travel performance data, and audience modeling and segmentation. With offerings including DK Shifflet, the Portrait of American Travelers® and travelhorizonsTM  as well as the recently launched groundbreaking "The Black Traveler: Insights, Opportunities and Priorities" report and inaugural Portrait of European Travellers® study, MMGY Travel Intelligence features top consumer insights exclusively for the travel and tourism industry. To learn more about the extensive collection of research, analytics and strategy services, visit mmgyintel.com or email us at research@mmgyglobal.com.
About MMGY Global: Business Strategy Practice
MMGY Global business strategy team members go where others don't. They go where the data leads them to provide critical insights and strategic guidance that maximize contributions from every channel, team member and agency partner. Through tools like Portrait of American Travelers®, Terminal and social listening, they help turn these insights into actions to create meaningful and fully integrated recovery plans for our clients. 
About MMGY Global: Social Listening Practice
MMGY Global is the exclusive social listening provider for the U.S. Travel Association's Travel Recovery Insights Dashboard. MMGY Global social team members have been using social listening for the past 10 years. Our social teams identify key observations and insights gleaned through social listening to set a strong data-driven foundation as a key pillar in developing a successful social media strategy for our clients around the world. Learn more about MMGY Global's social marketing practice.