Quick, Quick Takes on Travel - Vol. 5, Take 2

As I reflect on the last year and think about how to prepare for 2023, I have to chuckle. Two years ago, I would've thought predictions on data for 2023 would include:
Looking forward to using what replaced the third-party cookie
No more news stories about the "datapocalypse"
Increased sophistication of online performance attribution models
Industry alignment on the effects of CCPA and GDPR
A rough transition from Google Analytics 3 (Universal Analytics) to Google Analytics 4 (GA4)
And yet here we are! Another year of Google uncertainty, industry news cycles still revolving around cookie doom, continued reliance on the third-party cookie (now to be available through 2024) and a GA4 transition that (thankfully) isn't looking to be so rough. While confusing, and at times frustrating, the delayed timelines surrounding these changes aren't all bad, as they've allowed the industry and MMGY Global time to guide client strategy, build improved tech stacks, and prepare ourselves and our clients for the future.
While much of the industry has been eager to avoid what is to come with changes related to the third-party cookie and other privacy compliance regulations, I have been excited for the opportunities that this new world presents to us as marketers. Since the inception of performance attribution made possible by online data collection, the ecosystem in which we operate has been flawed. Current performance attribution is simply based on an observable order of events: impression, conversion, credit. This leads to a correlation-based attribution system that has reigned king for far too long. This line of thinking perpetuates the hyper focus on low funnel, last-touch marketing tactics that in reality produce overstated results.
Where others see doom and gloom, I see so much opportunity. Opportunity to focus on what matters. Opportunity to produce remarkable campaigns. Opportunity to shift the mindset of our clients from short term to long term. Opportunity to demonstrate the value of high-level prospecting. Opportunity to drive true results and influence in travel. I believe 2023 will be a year we look back on as a year we positioned ourselves to champion this new world and lead the industry forward.
We have taken three large initiatives to combat the aforementioned changes coming in 2023:
Improvements to Terminal: We have increased the strength of our data partnerships that power Terminal. More MMGY Travel Intelligence travel models are informing audience creation than ever before. We've worked with Experian to capture geolocation data and device graph capabilities. The improved depth of data and the leadership of the MMGY Strategic Planning team has led to traveler persona builds that provide direction for creative, media, measurement and audience execution, and enable all teams to row in the same direction. In addition to this, we've pioneered an online/offline multichannel performance measurement solution in partnership with Experian that will be a game changer for brand clients, especially those with low online booking volume.
Evolution of TravelDesk: 2022 saw the incorporation of travel data partnerships, cookieless targeting tests and improved measurement solutions. The team continues to evaluate additional cookieless audiences, DSPs, incremental travel data, inventory and performance measurement to further build TravelDesk into a first-class, travel-first solution.
GA4 Transition: GA4 was released in October 2020 and met with mixed reviews. Many basic UA functions were missing within early versions of GA4, and implementation was not as streamlined as its predecessor. The MMGY Analytics, MarTech and Paid Search teams have been instrumental in navigating clients through this transition, which will officially take place upon UA's sunset in July 2023 (assuming Google does not push it back). Thankfully, Google continues to add features and functionality to GA4 which should make this transition less painful.
Will 2023 be full of challenges? Probably. I hope so. That's what makes it fun, right? We've got the teams in place and are excited to take on whatever comes our way. On to 2023!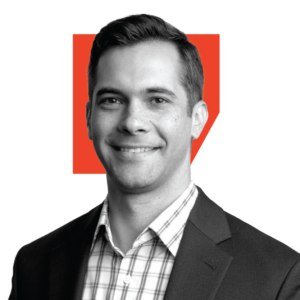 TJ Walz
Senior Director
Data Strategy & Performance
MMGY