Among the key findings, personal safety and state politics significantly impact LGBTQ+ travelers' decisions about where to travel, but cost of travel is the top deciding factor
MMGY Global has released a new research report, Portrait of LGBTQ+ Travelers in America™ – a comprehensive study into this group's travel behaviors, sentiments and attitudes. The research sampled more than 3,000 American LGBTQ+ travelers and was devised with input from a steering committee of professionals from LGBTQ+ organizations focused on travel, tourism and empowerment of the LGBTQ+ community. 
One of the key takeaways from the study is that representation in destination marketing materials is "very/extremely important" to this group, with 43% saying it would make them feel more confident that the destination is inclusive of the LGBTQ+ community. Travel marketers should also be aware of additional concerns LGBTQ+ travelers have that influence their decision to travel to a destination, such as: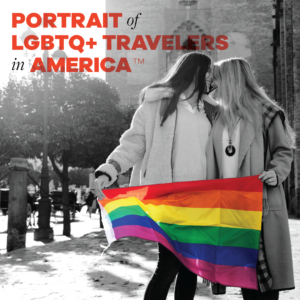 Half of LGBTQ+ travelers said that the safety of a destination is a concern when deciding where to go.

Fifty-two percent of respondents said state politics related to their LGBTQ+ identity greatly impact their decision to travel.

Thirty-nine percent of respondents said that any negative perceptions locals and other tourists may have of the LGBTQ+ community make them uncomfortable and impact the destinations they choose. Additionally, 33% said these perceptions impact how they present themselves while traveling in a destination.
The following are additional key findings from MMGY Global's Portrait of LGBTQ+ Travelers in America™:
Demographics
American LGBTQ+ travelers are on average younger, are more likely to be employed and have a lower household income than the average U.S. traveler. The average age of an American LGBTQ+ traveler is 39, compared to 49 for U.S. travelers.

More than 60% of U.S. LGBTQ+ travelers fall within the Millennial or Gen Z generations.
Trip Planning and Spending
LGBTQ+ travelers are more likely to travel solo and less likely to travel in pairs than other Americans, with 50% of LGBTQ+ respondents saying they travel solo and only 33% noting they travel in pairs. This can be compared to only 40% of U.S. travelers going solo and 40% traveling in pairs. However, a nearly equal percentage of both groups report traveling with children (12% of LGBTQ+ travelers and 14% of U.S. travelers).

On average, U.S. LGBTQ+ travel parties spent $461 on each vacation in 2021 – slightly more than U.S. travel parties ($455). 

LGBTQ+ travelers are most motivated by the desire to unwind, relax and explore new places, with more than 8 in 10 respondents citing these as the main motivators for them to travel. Four in 10 are motivated by specific LGBTQ+ events and attractions.

Hotels are the accommodation of choice for U.S. LGBTQ+ overnight travelers (47%), but at a significantly lower percentage than U.S. overnight travelers (55%). Another 23% of U.S. LGBTQ+ overnight travelers stay in non–paid accommodations, typically at the homes of friends/relatives. 
All proceeds from the sale of Portrait of LGBTQ+ Travelers in America™ will be donated to Brave Trails, a national non-profit organization that is dedicated to LGBTQ+ youth leadership. It offers accredited innovative programming inclusive of family camps, mentorship programs, meet-up groups and year-round activities to build tomorrow's LGBTQ+ leaders.
MMGY Global thanks its sponsors for their contributions to this study: Destination DC, Greater Boston Convention & Visitors Bureau, Tripadvisor and Visit Orlando.
Methodology
This report was conducted in two phases. Data for Phase 1: A DK Shifflet Profile of LGBTQ+ Travelers  was gathered from Shifflet's 2021 TRAVEL PERFORMANCE/Monitor™, which sampled 42,790 U.S. travelers, including 2,342 LGBTQ+ travelers. For the purposes of the study, LGBTQ+ was defined as respondents who identify as a sexuality other than heterosexual and/or a gender other than male or female. Data from Phase 2: A Custom Study of LGBTQ+ Travel, Motivations and Barriers was based on a sample of 1,050 U.S. LGBTQ+ travelers collected online in November 2022. Survey respondents identified as a sexuality other than heterosexual and/or a gender other than male or female. To learn more about MMGY Global's Diversity Equity and Inclusion Research studies, or to purchase the full report, go to mmgyintel.com. 
About MMGY Travel Intelligence
MMGY Travel Intelligence is MMGY Global's industry research and insights operating brand, offering proprietary data and research including MMGY Global's Portrait of American Travelers® as well as DK Shifflet's TRAVEL PERFORMANCE/MonitorSM, which is composed of the largest continuous consumer travel database in the industry. The organization's services are designed to power travel industry decision-makers through consumer insights, travel performance data, and audience modeling and segmentation. To learn more about the extensive collection of research, analytics and strategy services, visit mmgyintel.com or email us at research@mmgyglobal.com.
About MMGY Global 
MMGY Global is the world's leading integrated marketing firm specializing in the travel, hospitality and entertainment industries. With eight operating brands across the world, the award-winning organization maintains a global communications practice in all marketing channels, serving many of the world's premier travel and tourism brands. As a company dedicated to the travel industry, MMGY Global strives to create a connected, inclusive and peaceful world by promoting travel as a cultural bridge of understanding. For more information, visit mmgyglobal.com.
Media Contact
Rainey Stoll
MMGY NJF
rstoll@njfpr.com