Katie Briscoe, CEO, MMGY Global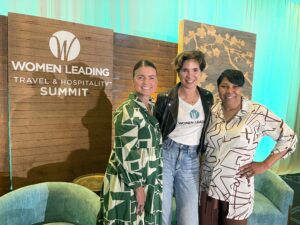 Last month, the MMGY Global team attended the inaugural Women Leading Travel & Hospitality Summit in Nashville. Surrounded by 350 industry-leading women for nearly three days, I couldn't help but to reflect on the impact of women leaders on our own business. 
In January of this year, I became the first woman to serve as chief executive in a business that is over 40 years old. While this was a significant step, it's really just one piece of our story – one of systemic change at the highest levels of MMGY Global that has resulted in record-breaking growth and has set the stage for prosperity across our global team and its client portfolio. It is a story that goes back much further than the announcement of a new CEO. It was one year in the making by male executives who insisted on making room at the table for fresh perspectives. 
We had the opportunity to share this story (How it Started → How it's Going) at the summit, and I couldn't think of a better way to do that than to be joined by my colleagues, CMO Karla Flannery and CHRO Mia Wise. We represent three-fifths of our Global Leadership Team, marking the first time in our company's history that the top leadership is composed of more women than men. Further, both Karla and Mia are women of color – adding necessary diversity and perspective to the leadership of our business. 
It was a special experience to share the stage in a fireside chat with these two extraordinary women. We spent a few minutes talking about how far we've come and where we still need to go. 
Here's a bit of what we discussed.
Three-fourths of our global team are women but in previous years, the representation in management didn't represent our population. We've spent years focusing on counteracting the "broken rung," the phenomenon where women in entry-level positions are promoted to managerial positions at much lower rates. What are we doing to ensure success for our team?
Today 71% of our middle management team are women and 62% are senior leaders (VPs or higher), so we're doing something right. First and foremost, there is no gender pay gap at MMGY Global. We've created equity across roles in the organization.

We've continued to create an environment that is family-friendly, not only for parents with enhanced parental benefits, but also casting a wider net with benefits for caregivers. We've leaned into other benefits that support and empower women/their families to make choices that are right for them … including fertility assistance, elective abortion coverage and graduated return to work plans post maternity leave. We added bereavement leave for miscarriage.

We've found that if we can support the women in our company as they live their lives, we remove so many of the barriers that prevent them from fully showing up to work.
Data shows senior-level women are twice as likely as senior-level men to focus on Diversity, Equity & Inclusion. How have we approached DEI and how has our business changed as a result?

We've established a goal we call "30 by 30," which aims to achieve 30% diversity by 2030 across our global team. Of our senior leaders (VPs or higher), 62% are women while 60% of the Global Leadership Team are women. But we know diversity reaches well beyond gender. Of our global population today, 1 in 4 women identified as BIPOC and/or part of the LGBTQ+ community.
To ensure women/diversity at the top of the company, we must ensure we have a pipeline of diverse candidates and an inclusive environment that enables us to retain that diverse talent. In addition to supportive benefits, we are partnering with universities and professional organizations to increase our diverse pipeline; we provide mentoring as well as training and development for our leaders, and we have Employee Resource Groups that increase the retention of our talent.
MMGY Global is a private equity-backed platform company. We know that women founders get just 2% of venture capital funding in the U.S. according to Morningstar. We're close to completing 11 acquisitions in less than eight years, how have we thought about it?

Our No. 1 goal has always been to build a world-class marketing and communications organization to serve the global travel industry. It just so happens that over half of our investments to date have been with female-founded companies and that is not a coincidence.  It's an enormous source of pride that not only have we invested in the legacy of women who have built their careers in the travel and hospitality industry but we can also grow the opportunities for their teams on a global scale.
The Harris Poll recently reported that half of Americans want to work for a female leader. In everything that we've already discussed, there is a level of empathy, a broader understanding of the people's issues that women are lauded for bringing to the table. BUT we also know there is an undeniable connection between female CEOs and stock prices.
Of the S&P 500 companies, only 41 of the CEOs are women. The organizations led by females have significantly outperformed their counterparts financially over the last decade. So I think this perspective of the empathetic style in which we led being a distraction to the business imperatives is false. We see this in our business: We had a record-breaking Q1 at MMGY Global. We really believe that our clients' success is our true north, and after that, the needs of our business will be taken care of. I've been told that's "Pollyanna" in the past … but I think it's just a new era of chief executive leadership.