Author: Caroline Moultrie, EVP, Managing Director, Hills Balfour UK
There has never been a more critical time to ride the wave of recovery. After two years of enforced staying close to home, this summer Europeans are vaccinated and determined to make up for lost time, with Central America and North America well-positioned to benefit.  
The latest Economic Impact Report (EIR) from the World Travel & Tourism Council reveals the North America travel and tourism sector is projected to recover at an average annual rate of 3.9%, outstripping the 2% growth rate for the wider economy.
This is further endorsed by data released from IATA, which points to Central America and North America recovering to 102% and 103% respectively by 2023 – 12 months sooner than the industrywide recovery. Asia-Pacific is not forecast to recover until 2025.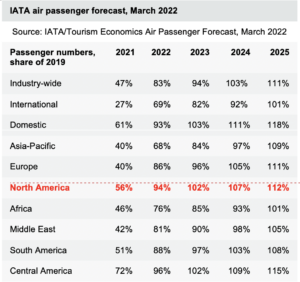 Latest data on airline capacity1 shows that long-haul recovery has now caught up with short-haul when it comes to the European market. Those countries, such as the U.S., that have relaxed restrictions are now at over 80% of capacity for equivalent weeks in 2019, and we expect to see another major surge in bookings when the U.S. pre-departure restrictions are removed. On the other hand, those regions that are still highly restrictive in terms of bookings are much lower. Long-haul travel to Asia-Pacific, for example, is still only at around 40%. So open travel policies continue to be the defining factor for successful recovery. 
According to the Department of Commerce, more than 5.5 million people from the UK, Germany, France, Italy and Spain alone are forecast to visit the USA in 2022. Next year this is set to rise to over 9 million2. Prices and yields from air travel are up, and they have increased as much as 20% in the case of Italy3.  
And while the war in Ukraine is shocking and has created unease across Europe and the rest of the world, it is not hampering the European appetite for travel. 
An initial minor slowdown in bookings was short-lived, with the vast majority of European visitors traveling to the USA and 89% coming from Western Europe. Consumer confidence among these travelers continues to be high.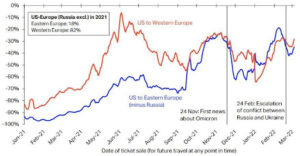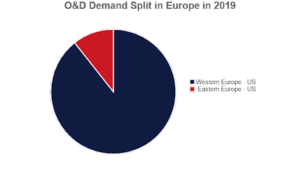 There is something to be said for the geography of Europe when considering travel sentiment. The term "The Iron Curtain" originated after the Second World War to symbolize an imaginary divide between the East and the West. While that divide officially ended in 1991 at the end of the Cold War, there is still a geographical importance when considering how conflict in Eastern Europe impacts sentiment toward travel in Western Europe as the data signifies.
[1] CAPA
[3] ASM
As a result of the attack on Ukraine, the Western world has triggered harsh sanctions and flight prohibitions, forbidding Russian airlines to enter the airspace of the EU, UK, Canada, the U.S. and Japan. U.S. and EU manufactured products are banned from being sold and delivered to Russian airlines, and Russian carriers are cut off from supplies of aircraft spare parts built by Western producers. In addition, as of now, all flights will have to circumvent the enormous Russian land mass by choosing more southern routes between Europe and the Pacific rim, flying instead through Turkey, the Gulf region and India. In a nutshell, a new Iron Curtain is stretching across the skies, isolating the Russian aviation industry.
Consequently, destinations in the U.S. have a unique opportunity to capitalize on the lack of supply to the east of Europe and the pent-up demand that will exist with Europeans determined to travel.
Take the UK for example (still geographically if not politically in Europe): Studies4 show that the Brits will prioritize their vacation over home improvements or spending on electronics or entertainment. As of May 2022, there are over $85 million credit notes in circulation in the UK alone, all of which need to be spent by the end of September 2022. When restrictions were lifted in February, there was an immediate 33% increase in travel bookings. In the UK, travel is a necessity not a privilege.
But the pandemic has not left the market unchanged. In fact, it has had deep-rooted impacts on motivations to travel and expectations of the experience. So, what are the themes that U.S. destinations should be tapping into in order to whet the appetite of the European market?
Nostalgia: After the upheavals of 2020 and 2021, there is a desire to return to the familiar. This includes destinations where travelers have great memories and want to create new ones – places that give them a sense of comfort and reassurance and places they recognize from films and books.  
Regenerative travel: Awareness of purposeful travel, in particular taking into consideration environmental and social concerns, has grown in the past two years, with 81% of travelers now saying that sustainable travel is important to them5. Travelers want to know how their trip benefits local communities and how they can reduce their own environmental footprint. 
Wellness: Two-thirds of consumers are more conscious of looking after their physical and mental health, so travelers are looking for trips that enhance and improve their mental and physical well-being. 
The Great Outdoors: Travelers are eager to reconnect with nature, roam free (whether on the open road or in national parks) and explore the great outdoors with activities such as adventure hiking high on the agenda. 
Sports Tourism: There is a huge curiosity from the European markets surrounding the culture that is particular to American sports – from NFL and college football tailgating parties to global events such as this summer's World Games in Alabama. 
Luxury: Travelers are looking for a personal insight into the destination including ultra-bespoke, high-end and authentic experiences, such as private dinners created by well-known local chefs or private tours of exhibitions with the curator. 
So whether you're in New York, Nashville, Nevada or anywhere in between, our message is clear: Europe wants to travel. U.S. destinations should seize the moment and make sure that Europe knows the wealth of opportunity and warm welcome that awaits across the Atlantic.