High-earning U.S. households anticipate taking 3.8 international vacations in the next 12 months
Despite rising costs and changing world events, international travel is poised to increase among affluent Americans over the next year, according to new research by MMGY Travel Intelligence. Today, the company released the findings of its Portrait of American International Travelers™study, presented in collaboration with the United States Tour Operators Association (USTOA). Examining data from more than 2,000 respondents, the comprehensive national survey found that high-income, outbound U.S. travelers intend to take an average of 3.8 international vacations in the next 12 months, up 72% from 2.2 in 2019. Additionally, the average outbound traveler anticipates spending a total of $15,364 on international trips in the coming year – a 16% increase when compared to pre-pandemic spending predictions. 
"It's clear that there is a willingness and growing appetite to travel internationally, but the important thing for marketers to note is that the American traveler looks and acts quite differently than they did before COVID-19," said MMGY Travel Intelligence Europe Managing Director Cees Bosselaar. "As international tourism ramps back up, destinations should continue to be mindful of the new concerns and challenges that today's travelers face throughout the course of their journeys." 
Key findings from the third annual study include:
Although overall interest in foreign travel is up, the number of destinations U.S. travelers want to visit is down compared to pre-pandemic, suggesting that

travelers have become more selective

in their purchase decisions. Europe, the South Pacific, the Caribbean and Canada were the top four destinations cited by U.S. travelers as places they want to visit. 

Indicating a shift in travel patterns, the study also noted an overall increase in interest in visiting

less-crowded destinations

and those that offer an abundance of outdoor activities. 

Examining

generational differences

, the study found that American Millennials plan to go on more international trips than Boomers (5.7 vs. 1.5 in the next 12 months) though Boomers anticipate spending twice as much on each trip ($7,725 vs. $3,564).

Travel disruptions such as

flight cancellations or delays

reign supreme as the top concern for Americans traveling internationally. Concerns surrounding travel disruptions were shared equally across all generations, whereas other concerns such as inflation and COVID-19 appear to have more of an impact on younger travelers. Personal safety, as it relates to violence and unrest, and sustainability practices round out the top areas of concern for travelers. 
"This study confirms that the sustainability efforts of a travel service provider or a destination are impacting travel decisions, primarily for younger generations," said Terry Dale, President & CEO of USTOA. "Sixty-three percent of Millennials indicate that a travel service provider's focus on sustainability impacts their travel decision-making." Dale added that USTOA is using its milestone 50th anniversary in 2022 to look "50 years forward" to help its tour operator members initiate and grow sustainable and responsible practices to meet these evolving traveler expectations.
For more information about the study or to purchase a copy, visit mmgyintel.com or contact cbosselaar@mmgyintel.com.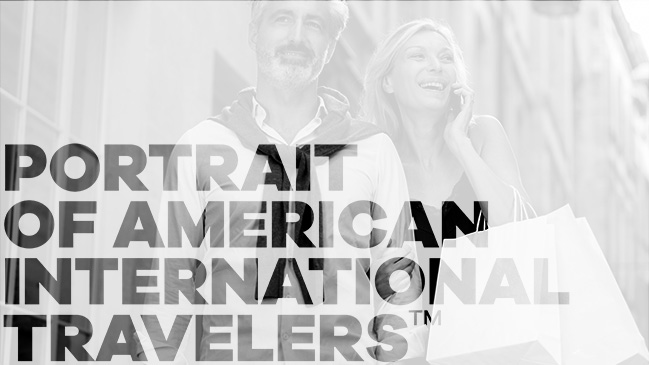 About the 2022 Portrait of American International Travelers™
Presented in partnership with USTOA, the third annual national survey of American international travelers examines the travel behaviors, spending habits, preferences and motivators of 2,024 respondents surveyed in July 2022. In order to qualify for the survey, respondents had to have an annual household income of $100,000 or more, had taken at least one vacation outside of North America during the past three years and plan to take at least one vacation outside of North America during the next 12 months. Respondents were selected randomly, and the sample was weighted based on age, gender, ethnicity, household income, geography and education to ensure the data is representative of American high-income households. 
About MMGY Travel Intelligence Europe
MMGY Travel Intelligence Europe is MMGY Global's industry research and insights brand in Europe, offering proprietary data and research designed to power travel industry decision-makers through consumer insights, travel performance data, and audience modelling and segmentation. With offerings including the inaugural Portrait of European Travellers® study, MMGY Travel Intelligence Europe features top consumer insights exclusively for the travel and tourism industry. To learn more about the extensive collection of research, analytics and strategy services, visit mmgyintel.com/europe or email us at research@mmgyglobal.com. 
About USTOA
Representing nearly $19 billion in revenue, the member companies of the U.S. Tour Operators Association provide tours, packages and custom arrangements that allow 9.8 million travelers annually unparalleled access, insider knowledge, peace of mind, value and freedom to enjoy destinations and experiences across the entire globe. Each member company has met the travel industry's highest standards, including participation in the USTOA's Travelers Assistance Program, which protects consumer payments up to $1 million if the company goes out of business. As a voice for the tour operator industry for 50 years, USTOA also provides education and assistance for consumers and travel agents.  
Media Contacts
Rainey Stoll
MMGY Global/MMGY Travel Intelligence
rstoll@njfpr.com
Alice Phillips
Redpoint/USTOA
phillips@redpointmarketingpr.com